Environment
The Group contributes to the creation of a world that is pleasant to live in, with an affluent social climate, by offering original, high-quality products and services attuned to customer needs based on fluid leakage prevention technology.
Environmental Policy
Recognizing that environmental issues are a challenge common to all mankind, Nippon Pillar Packing is aware of its social responsibility as a corporation, and as a good corporate citizen, we are actively working to preserve the global environment. We will also contribute to the development of local communities, aiming for the sustainable development of society and the Company.
(1) Compliance with laws and regulations

In addition to complying with domestic and international environmental laws and regulations, we pledge to establish and adhere to our own voluntary standards that take into account the needs of society.


(2) Development of products that contribute to environmental protection


As a manufacturer of fluid control equipment, we develop technologies and products that contribute not only to improved performance but also to the emergence of a society committed to sustainability through environmental protection initiatives.


(3) Controlling environmental pollution in our business operations

We strive to prevent pollution and protect the environment by reducing the amount of waste generated, recycling the waste generated, reducing the use of environmentally hazardous substances, while complying with pollution control regulations intended to protect the environment.


(4) Improvement of environmental management system


Recognizing the environmental impact of our business operations, we strive to continuously improve our environmental management system.


(5) Cooperation with society


We develop environmental conservation initiatives in cooperation with stakeholders in an effort to meet the expectations of society.


March 3, 2021
Structure for Promoting Environmental Conservation Measures
In September 1999, our Sanda Factory obtained ISO 14001 certification. The Fukuchiyama Factory was also certified in September 2002. We have an ongoing environmental improvement program at these two sites. We have also established an environmental management structure at the two sites. A Global Environment Committee chaired by the executive officer responsible for the environment oversees environmental management, working to reduce our impact on the community and local environment.
Furthermore, each site has established an Environmental Management Committee with the aim of reducing the environmental impact of our business activities and developing environmentally conscious products. These initiatives are reported to the ESG/SDGs Promotion Committee, chaired by the President, to enhance the effectiveness of each committee, and management reviews are conducted at the Management Meeting and meetings of other bodies to ensure continuous improvement.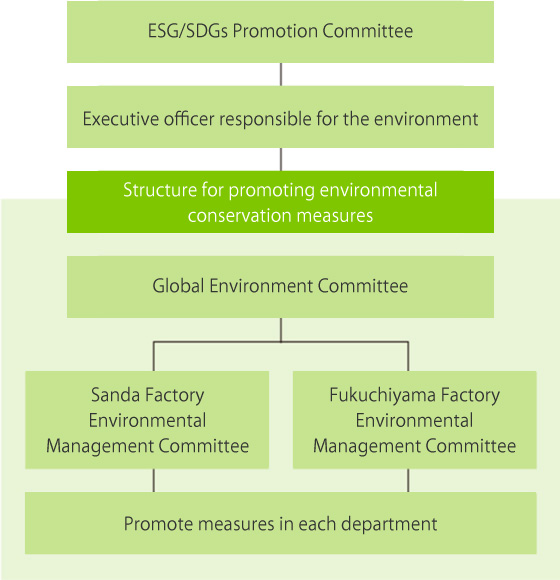 Environmental Audit
Our Sanda Factory and Fukuchiyama Factory, both of which are ISO 14001 certified sites, underwent regular ISO 14001:2015 audits to verify that the environmental management system is being operated appropriately and that continuous improvements are being made.
In addition, the Sanda Factory and Fukuchiyama Factory voluntarily conduct internal environmental audits every year at all departments to confirm environmental initiatives and to ensure continuous improvement of the environmental management system.
Risk Management
We perform regular disaster drills organized by the Disaster Prevention and Pollution Control Subcommittee to prepare for situations that may have a severe impact on life, property, and our living environment.
We will continue to strengthen our life-saving drills, the initial phase of our BCP.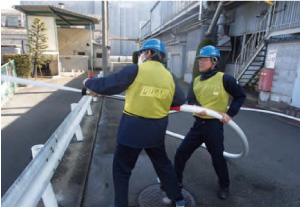 Water discharge drill for factory fires
Compliance with Measures for Laws, Regulations and Other Obligations
We always obtain the most up-to-date information to ensure we comply with environmental laws, agreed values of municipalities, etc., clearly setting out all compliance requirements in the "Environmental laws, regulations, and other requirements list." We also conduct regular surveillance and measurement to ensure scheduled reporting and recordkeeping to prevent violation of laws and regulations and contamination of the local environment.
We conduct regular surveillance and measurement to improve matters of concern and to maintain and preserve the environment.
Response to Toxic Substances
Under the provisions of the Pollutant Release and Transfer Register (PRTR), which requires companies to manage specified chemical substances that have an environmental impact, we notify the competent authorities every year regarding these substances. We also have an ongoing program of considering switching to non-specified alternatives and cutting usage, emission, and transfer of specified substances.

Latest Initiatives